Carantee Sample Report – Oman
Overall condition and summary
In an easy-to-read single-page summary, we show you precisely what the used car condition is. And we give an accurate score for each of the sections. That's interesting because you may still want to buy a car if the bodywork is not in mint condition when the chassis and other parts are still in great shape. There's also a timeline that tells you which repairs you can expect in the next 12 and 24 months. And for each of the parts that need repair, there are pictures and detailed recommendations.
Detailed inspection sections
The detailed inspection sections show you all the essential parts of the car that we have carefully inspected.
Other vehicle inspections in Oman will only look at the directly visible parts. That doesn't help you make the right choice. CARANTEE's comprehensive vehicle inspection looks at every component. Our highly trained mechanics also perform a thorough road test. Other vehicle inspections only take a quick look to see if things need repair now. CARANTEE's comprehensive vehicle inspection also checks if parts need repair in the next 12 and 24 months. Only CARANTEE gives you the complete picture of the vehicle's condition.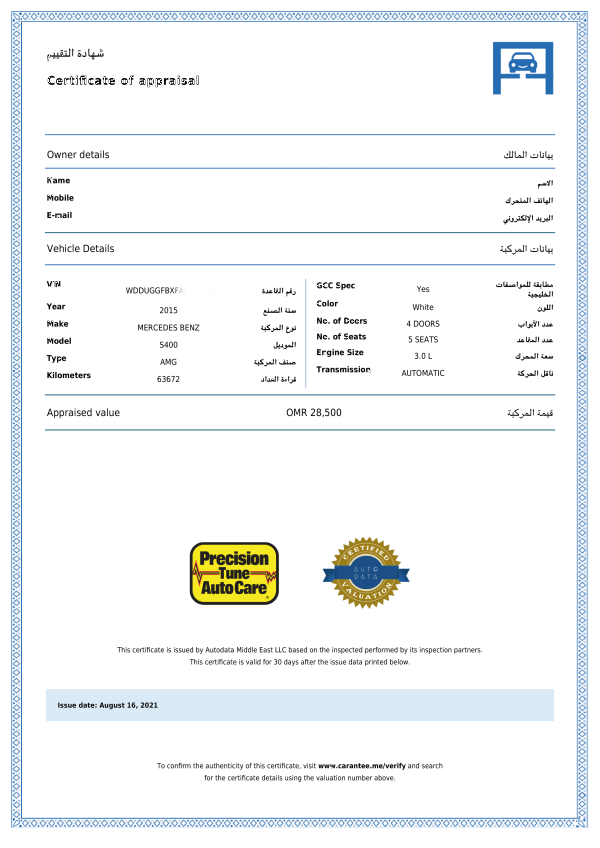 Certificate
Our water-marked vehicle valuation certificate confirms the exact vehicle specifications and used car's market value. The appraised used car value is based on the most trusted vehicle valuation database in the sultanate of Oman and adjusted for the detailed outcome of the independent CARANTEE comprehensive vehicle inspection. The CARANTEE certificate is the most accurate appraisal of the used car market value. The CARANTEE appraisal certificate is accepted by all the banks in Oman when you apply for a vehicle loan.
You can check the validity of any CARANTEE certificate on www.carantee.me/verify